THEE FLANDERS: "enjoy the silence" 10" + "nightmares" + "graverobbing 2" CD out now!!
Our Easter surprise comes with a large number of colorful discs. Vinyl instead of eggs … is the motto … sustained and practical, a round thing.
Our favorite psychobilly band THEE FLANDERS from Potsdam have 3 new releases at once in the basket. The collectors heart beats higher once again.
See you soon, Happy Easter and a successful egg hunt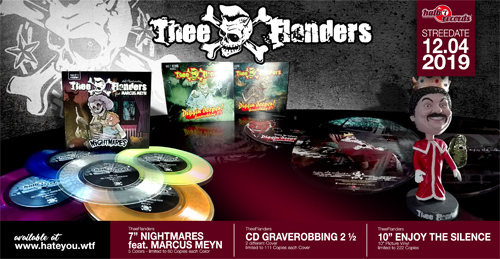 THEE FLANDERS - "Enjoy The Silence" Picture Disc 10" Vinyl
Long announced and planned release from the "Graverobbing 2" album with the DEPECHE MODE Cover "enjoy the silence" Spreewaldgurke and ACHIM MENTZEL as Dave Gahan on the vinyl.
Limited on 222!
***
THEE FLANDERS - "Diggin Deeper! Graverobbing 2 1/2" Digi CD
Following the successful release of parts 1 and 2 of the well known "Graverobbing" series, a new mini-edition of "THEE FLANDERS covers the history of music" is now available. The CD comes in a beautifully Digi-pack with 2 different covers. A Total of 14 songs with 40 minutes of playing time.
Only 111 per cover were pressed.
***
THEE FLANDERS feat. MARCUS MEYN - "Nightmares" 7" 5 colours
After almost sold-out 7" single "You spin me round (like a record)" - yes exactly where BELA B. from DIE ÄRZTE sung - as well as the "enjoy the silence" 10" here is now and finally the third outcoupling from the "Graverobbing" album. As a duet partner sing MARCUS MEYN by CAMOUFLAGE and NORMAN FLANDERS this cool hit. The song was already released as Electro Remix and a real hit. Wow…now we are quite proud and present the original Psychobilly version here. Side B contains brandnew Flanders-Medley. The 7-inch edition is strictly limited.
There are 60 each in transparent vinyl as: "colorless" "neon yellow" "orange" "blue" "violet".